Jurassic World: Dominion Dominates Fandom Wikis - The Loop
Play Sound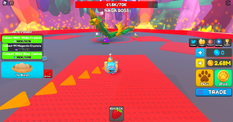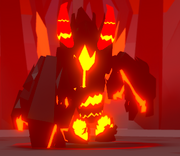 Bosses are particularly strong mobs which take time to beat. There're currently five non-limited bosses in the game.
Bosses are found in some dimensions. There are six dimensions that have a portal to the boss arena. 5 of the dimensions are permanent, 1 is limited. The following dimensions are in the next 2 sections:
Permanent Bosses:
[
]
Ancient Desert - Naga Boss (Pet Damage: 1T)
Cloud Islands - Lava Monster Boss (Pet Damage: 2T)
Ocean Depths - Ghost Pirate (Pet Damage: 3T)
Tiki Island - Tiki Boss (Pet Damage: 4T)
Draco's Tower - The Frozen Ancient (Pet Damage: 5T)

Limited Bosses:
[
]
Summer Event - Hornet Boss (Ended last October 9 2021) Pet Damage: 8T
Winter Event - Ice Serpent Boss ( Pet Damage: 50T ) Required to Enter: 75 Gems.
Players are able to get a boss egg dropped from a boss with a chance of 1/10k(0.01%). The boss egg hatches into a pet that looks like the boss it came from, but a smaller. In addition they drop 16 of the best eggs in the dimension.
Bosses are different than normal mobs because they attack the player frequently. Bosses attack with different attacks like shockwaves and spikes. They also damage pets by one damage per second.
Important!!! Many people are confused why they have hatched over 10k eggs and still have no boss egg. This chance is completely random, and may last infinitely.